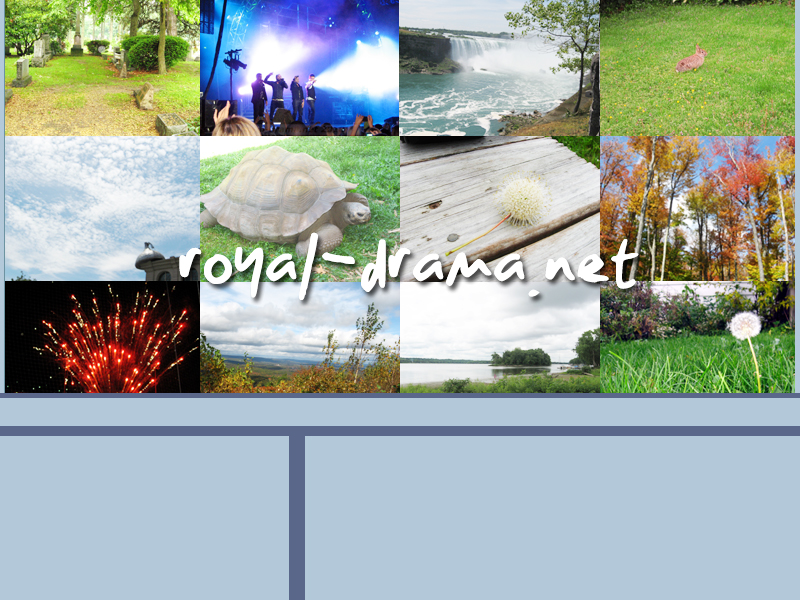 Intro;
Welcome to royal-drama.net! This is the domain of
Jamie
, a 28 year old female from Ohio, USA. This site was created to host my various projects that I randomly get to urge to create. It was orginally used a personal site but then I got hooked onto
Livejournal
so I have been blogging there instead. Just a notice, this main part is not updated all of the time. What you'll find here is updates on my websites, fanlistings I've joined, (eventually) my graphics archive, & whatever else I come up with to do.
_____________________
Royal-Drama.net Quick Stats;
Born on: 9/25/2004
Host: surpass hosting
Owner: Jamie
Current number of hostees: 0
Hosting opened: For listing type sites only.
Layout featuring: My photography. Made in Photoshop 7.0.


_____________________
Where else you can find me;
Formspring : Facebook : Livejournal : Shadowed Icons : Joined Listings : Twitter : NASCARland


_____________________
Contact Info;
Email: hermionesparkles[at]yahoo.com
AIM: SweetJstar24
Yahoo!: HermioneSparkles



Fandoms;
I am a huge fangirl. I love to obsess/be giggly/get emotional over the following:
;
Harry Potter
books & movies
;
Buffy the Vampire Slayer
;
House M.D.
;
Gilmore Girls
;
Shirley Temple
;
Backstreet Boys
;
Disney movies
;
King of the Hill
;
ER
;
Modern Family
;
Jeff Gordon (and NASCAR in general)
;
Cleveland Indians
;
Omar Vizquel